Tech Trailblazer Stephanie Moore Lights the Way for Women in STEM
Written by Juliana Scheiderer | August 26, 2021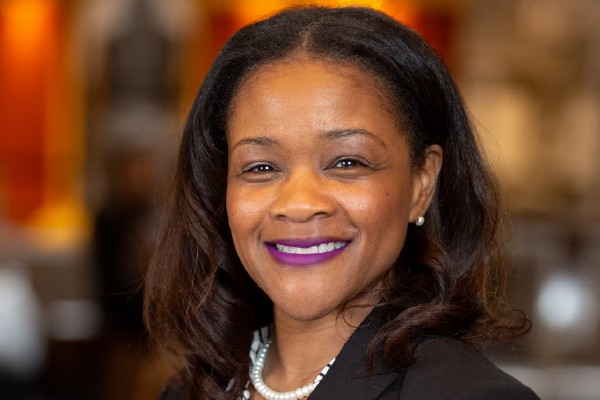 Stephanie Moore, Master of Global Engineering Leadership
Stephanie Moore is on track to be the first African American woman to graduate from Ohio State's online Master of Global Engineering Leadership (MGEL) program, and it is her mission that she is not the last. At management and IT consulting firm Booz Allen Hamilton, where she has worked for 16 years, Moore continues to pave the way for tomorrow's women in STEM and women of color through mentorship and advocacy in various business resource groups.
After earlier considering an MBA to advance her career, Stephanie ultimately decided to enroll in the online MGEL program at Ohio State. The MGEL program is focused on applying technical leadership skills specific to the field of engineering. MGEL students also select a technical track to tailor the program's curriculum to their professional interests.
As an IT professional, it made sense for Moore to choose the Enterprise Services track ­– which equips students to operationalize the alignment of technology components throughout their organization while meeting business strategy goals. These specialized courses have allowed Moore to immediately apply her new skills to her day job – making her a better-equipped engineer and transformational leader.
We sat down with Moore to talk about her experience in the online program and how she strives to create space for women and people of color in STEM.
Describe your work at Booz Allen Hamilton.
For the past 16 years, I have supported offensive cybersecurity missions for clients in the intelligence community. I am currently leading a team of technical high-performing test engineers and forensics examiners. The work is plentiful and very rewarding, and it gives us an opportunity to protect the country's infrastructure, which is both important and exciting. Aside from client work, I am also actively leading diversity, equity and inclusion efforts for our BAH employees in our client market.
What led you to the Master of Global Engineering Leadership (MGEL) program?
I have an undergraduate degree in business with an emphasis in computer information systems and for the past seven years, I have been working in engineering. I thought, "I am already in engineering and managing people, so I think it would be beneficial to gain a broad spectrum of what that really means."
When I discovered this program, I was skeptical about going back to school. However, the program being 100% online, and the use of my employer's tuition reimbursement benefit to cover expenses, made the decision simple. It really worked in my favor and aligned with my future goals.
What is a unique aspect of the MGEL program?
The MGEL program is segmented into various technical tracks specializations. I chose the enterprise services track given my professional background in IT. The program is designed such that you build your technical expertise but at a management level. MGEL is a nice segue for someone who is working in and around information technology and wishes to manage people and the different process and procedures that encompass the implementation of systems.
Tell us a bit about your experience in the program.
With engineering or any related information technology field, it is mostly dominated by men. So entering the program, I knew things would more than likely be the same. Then, I wondered if there were other African American women also in the program that I could connect to. I decided I would start to look around for that connection. I reached to the College of Engineering's Office of Diversity, Outreach and Inclusion(link is external).
After looking at demographic data for the MGEL program, I discovered that I was one of six women in the program, and of that six, the only Black woman. Being on track to be the first African American woman to graduate from this program, certainly puts me in a place of accepting the charge to help diversify the engineering pipeline for the future. I believe that as a soon-to-be alumnus, there is a necessity to build partnerships on educational investments and mentorship.
I received my undergraduate degree from Norfolk State University – a historically black college and university. I want to ensure all the students there, as well as other HBCUs, are aware of professional degreed, quality programs, like Ohio State's MGEL program. My goal will be to work with Ohio State to market the MGEL program with consideration of recruiting students of color, especially women, from historically black colleges and university (HBCUs). I am the first, but not the last. If I can inspire one person, I have done my job.
What would you like to tell someone considering the MGEL program?
I want people to know about the flexibility of the program and that its track offerings can help them tailor their personal desired learning experiences.  The MGEL program is high-quality and offers the perfect level of rigor for a working professional. Another added benefit is that many of my professors are currently working in the industry, which is a bonus to applying knowledge to real situations.  Also, while going into the program, I was concerned that by Ohio State being one of the largest institutions, that I would feel like one in a thousand students. Instead, I felt a sense of close-knit, connected support, from both classmates and faculty.
I have seen great things out of the MGEL program, and I want everyone to know about it. I have seen other universities offer programs like it. However, MGEL's quality program offerings coupled with Ohio State's reputation make the opportunity second to none.
"I have seen great things out of the MGEL program, and I want everyone to know about it ... Ohio State's reputation makes the opportunity second to none."
Describe your experience learning online. Did anything surprise you?
As a mom of four, flexibility was huge for me. I have been very pleased with the 100% online program. The CarmenCanvas instruction platform has served very well, with no anomalies. This was important to ensure that all aspects of online learning were streamlined. There were opportunities to participate in live recordings, as well as accessing the playback options when convenient. The wealth of knowledge the professors bring is instrumental.
All the advisors and professors have been readily available and responsive to my learning experiences. They invest substantial time and effort into the program to ensure students feel included and equipped in their pursuit of educational success. Many of my professors are still working in the industry which provided students the ability to apply practical solutions. Given the size of Ohio State, I was skeptical about the size of the class, even though it was online. However, my classmates and I were able to build a great sense of community.
What impact has the MGEL program had on your career?
I definitely think my master's degree will aid me as I look to the next step in my career. I have taken a wide range of classes ranging from model-based systems and software engineering to financial accounting. This coursework contributes to the stimulation of a business environment. The MGEL provides me the opportunity to learn and apply engineering tools, managerial theories, and best practices to design and operate enterprise systems. Now, I can confidently walk into meetings and talk about the different types of tools and techniques available for technical business solutions.
"Now, I can confidently walk into meetings and talk about the different types of tools and techniques available for technical business solutions."

 
When you aren't busy with work or school, how do you spend your time?
I am a first-generation college student. I grew up in the rural south in South Carolina, and in my leisure, I help young girls with similar backgrounds as mine see themselves realized in STEM careers. I am supporting volunteer efforts that help to extend the pipeline so that we have more girls interested in STEM fields.
My volunteer efforts include Girl Scouts(link is external), Boy Scouts(link is external), FIRST Robotics(link is external), Black Girls Code(link is external), BlackGirlsHack(link is external) and Girls in Technology(link is external). Those efforts have been very rewarding and considered launching pads for growing the pipeline in diversifying tomorrow's STEM professionals. There is a lot of work to be done and I am in the long haul to seeing that change.
Ready to take the next step in your engineering career? Reach out for more information.